Strategy Execution Software
A Simple System for Strategy Accountability
Save Time & Simplify Strategic Business Reviews:  Stop wasting weeks preparing for strategic business reviews that don't justify the time they take to prepare.
Recognize Success & Evaluate KPIs Objectively:  Visually evaluate strategy success with objective color coded metrics.
Avoid Failure & Initiate Corrective Actions Early:  Use standardized templates for corrective actions and business cases.

Effectively Communicate Your Strategic Initiatives
Does your organization have multiple version of "the strategic plan"?  Most organizations spend excessive time planning, but fail to communicate the plans in a way that allows the organization to stay focused and execute. KPI Fire serves as your organizations single source of truth for the strategic plan.
Keep Your Strategy Alive and Well
Once the strategic plan is complete and communicated, it's critical to measure progress against the objectives, revisit and monitor the plan to ensure it remains valid and adapt the strategy as business conditions change. If you need to dig through your old emails to find your strategic plan, you need KPI Fire.
Align Strategic Initiatives to Project Portfolios
Whether you call it Hoshin Kanri, Cascading Goals, or OKRs, it is important to get the strategic priorities passed down to the people and functions who can make it happen.
Simplify Business Reviews
Typical monthly or quarterly business reviews can take more time than most businesses are proud of. With KPI Fire you can simplify & standardize the format for your Business Reviews and reduces wasted effort on powerpoint slides that don't add real value. You can get more frequent reviews and get them done in less time and with less effort than before.

Communicate Strategic Initiatives
Functional leaders need clear business objectives from senior leaders to feel confident making plans and decisions. Everyone is better off when you have clear metrics with targets that define how you will keep score.  Progress toward key initiatives and transformational innovation and ideas for continuous improvement can come from all levels when the team knows what the big picture objectives are.
Remove Ambiguity
Do you have a strategy?  Do your employees know what it is?  Many employees report "unclear goals" as the #1 source of stress in their lives.  Don't let this happen to you. If your strategic plan is still living on a document on your own personal computer, or if it is lost in an email from 6 months ago, you are part of the problem. We have the solution.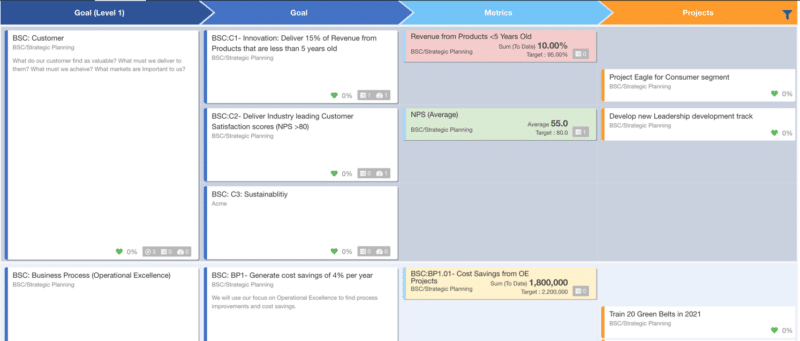 Develop Execution Skills
Strategy Execution is not just a task for senior leaders and the strategy department. Effective strategy execution relies on employees at all levels of the business to develop strategy execution skills. These critical thinking skills can be modeled your senior leadership or strategy team and can be reinforced with KPI Fire. KPI Fire makes strategy execution simple for all levels of your organization.
Simple to Adapt
Regardless of the strategic planning language you may be familiar with (Hoshin-Kanri, Cascading Goals, OKRs, Balanced Score Card) achieving  goals with KPI Fire is compatible and follows a simple formula. What do we want to achieve?  How will we measure our Progress?  What is the work to be done? This formula is simple and repeatable and easy for your people to follow and learn.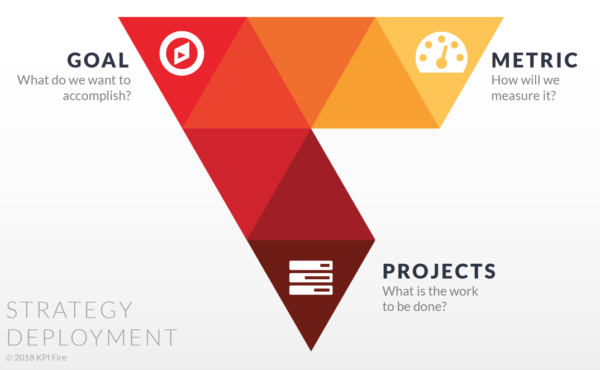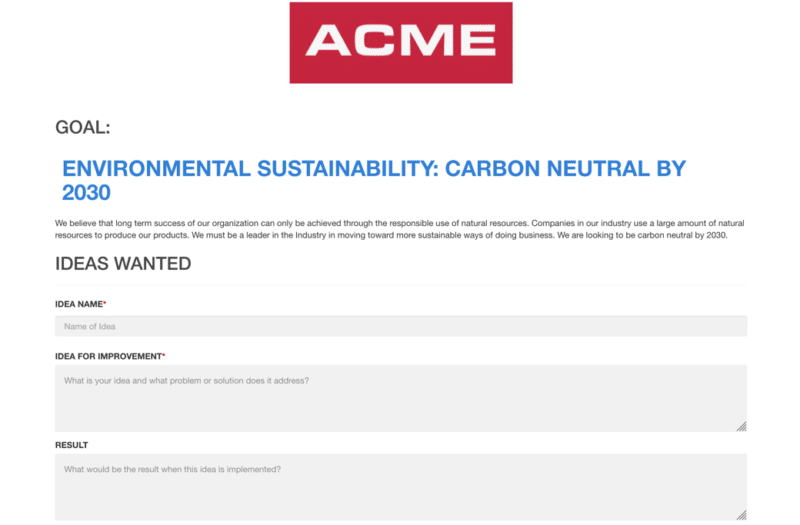 Move Transformation Forward
Some strategic goals are so big that traditional top down planning methods are insufficient to tackle the challenge.  Some strategic goals need bottom up idea submission and ongoing participation in project selection.
Business Case Templates
Projects are the building blocks of strategic outcomes. Use project charters for describing the problem to solve, the desired outcome, and the scope of the project.  Status report templates and reminders keep everyone up to date. KPI Fire makes it easy to develop project charters to support your strategic initiatives. 
Sets roles, responsibilities and accountabilities
Identify dependencies & relationships
Customizable Templates and layouts
Track Approvals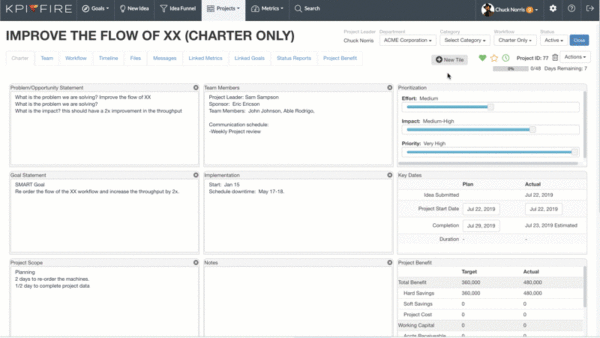 Enterprise Functionality
KPI Fire is built for enterprise.  KPI Fire can be implemented quickly and can support numerous configurations. Our APIs allow for easy integration with 3rd party software such as Jira, ServiceNow, PowerBI, Tableau, and many more. 
Secure
Role based access control
Single Sign On (available)
APIs