Hoshin Planning with Strategy Execution Software
Do you have a strategy?  Do your employees know what it is?  Many employees report "unclear goals" as the #1 source of stress in their lives.  Don't let this happen to you. If your strategic plan is still living on a document on your own personal computer, or if it is lost in an email from 6 months ago, you are part of the problem. We have the solution.
Are you ready to take your strategic plan from a static document and turn it into a dynamic, connected application that employees can use on a daily basis to keep strategic priorities moving forward?  If so, KPI Fire is for you.

KPI Fire supports most strategic planning approaches, including Hoshin Kanri, xMatrix, and Balanced Scorecard methods, and more.
Start by defining your top-level goals. Add additional levels of goals for teams or departments.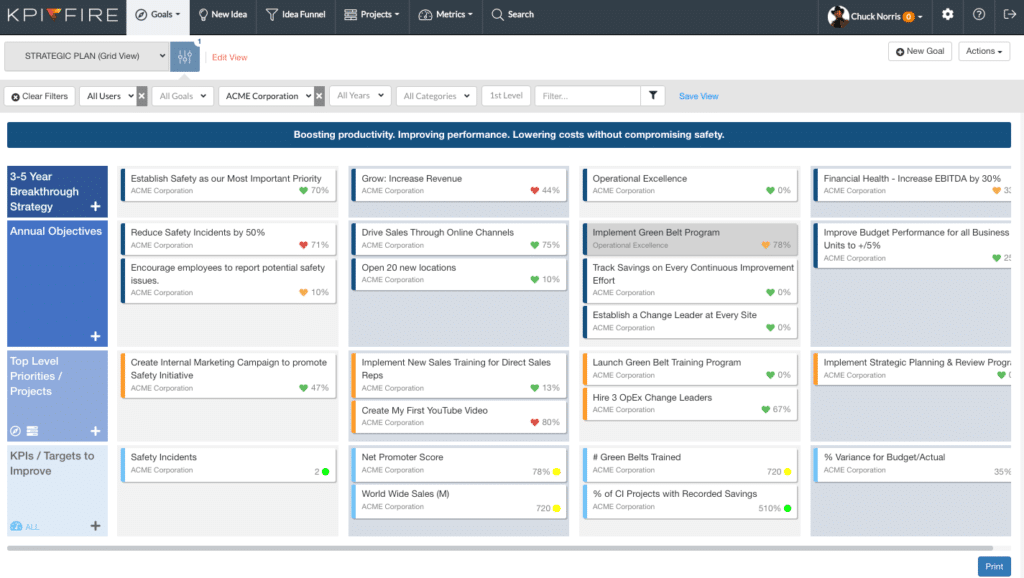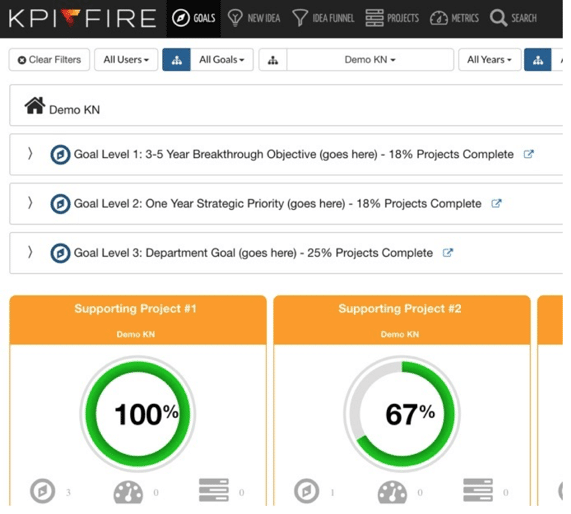 If you've been using a spreadsheet and X Matrix for your Hoshin Plan, it's unquestionably time to upgrade to KPI Fire.
Bowling Chart View for combining Goals, Metrics, and Projects.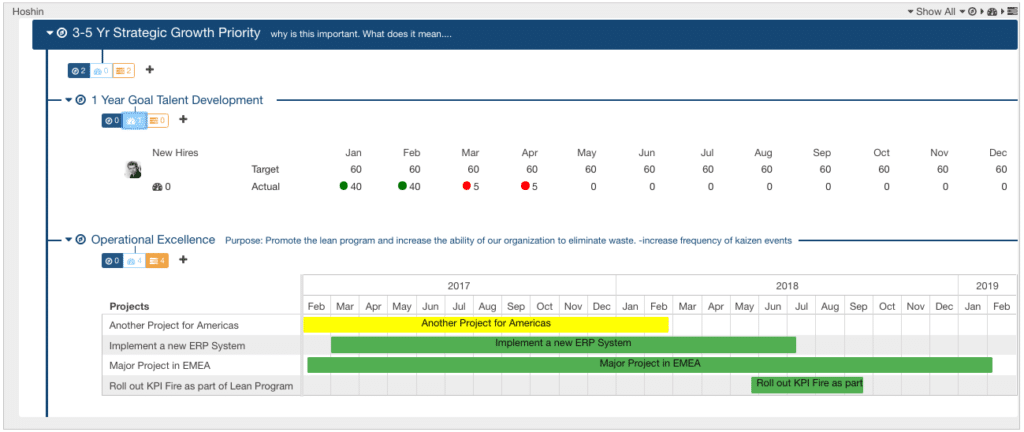 Align executives, middle management, and team members around important company goals with KPI Fire
Certainly, defining what goals are most important to the company is a key to success. Even more important is cascading those goals down to all employees, so that everyone is working towards accomplishing those goals, and everyone is making a real difference.
Once these goals have been established, leaders can easily see how their departments are progressing toward their strategic objectives. This also gives them an idea of where they need to make improvements. Team members and operators can track process performance measurements in real time. This further enables them to make adjustments on the fly and submit improvement ideas to their team's Idea Funnel through KPI Fire.
Manufacturing, healthcare, and service industries alike have chosen KPI Fire as their all-in-one strategy deployment software solution for one reason: it has an undeniably positive impact on your business. KPI Fire is the only software designed to take your strategy from concept to execution, all while focusing your team like never before.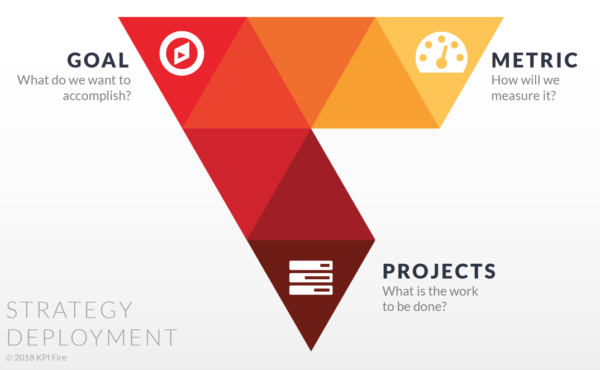 KPI Fire is an undeniably powerful strategy execution software. Goals define what you want to achieve.  Metrics are how you measure your results. Projects are the work that needs to be done.
New to Hoshin Kanri? Learn HOW to execute Hoshin Kanri Planning by reading about the 6 steps of Hoshin Kanri here:
If you're in the market for a Hoshin Kanri or Strategic Planning software solution, take a closer look at KPI Fire. We can setup a quick demo for your team and get you up and running in just a few minutes.
Why choose KPI Fire as your Hoshin Kanri or Strategic Planning partner?
At KPI Fire, Hoshin Kanri is part of our DNA. At this point, we have helped many clients develop and execute strategies in almost every industry. To list, some of these industries include healthcare, manufacturing, hotels, and even mining. Our flexible Hoshin Kanri training and coaching is custom-tailored to fit your unique needs. Whether you need a 1-day Hoshin Kanri overview for your management team, or want to engage in a start to finish strategy execution plan, our team will work with you to achieve your goals and get measurable results.
Next Steps
Contact Us
Hoshin Kanri will help your business! For answers to your questions or to get started with your own Hoshin Plan, and by all means, send us a note at hoshin@54.201.12.32 or give us a call at 855-957-4347. Our team is ready to help you have your best year yet!
Get Started with KPI Fire
Already have a Hoshin Plan but your ready to upgrade from spreadsheets to KPI Fire's powerful online platform? Let's go!