Product Updates
We are happy to announce some new enhancements & fixes:
(Last Release Dec 30, 2022)
Note: if you don't see the same thing in your account, try clearing your cache/cookies or use a "new private window" to refresh the cache.
New Features
Enhancements to the Custom Huddleboard:  X-Matrix
More control over placement of goals/metrics/projects 
These changes only apply to the Huddleboard version of the x-matrix. The x-matrix view on the Goals menu will still function as before.
New Feature preview/beta: KPI Tree View
This feature will be added to the main menu navigation soon, but you can access it now by logging into your account & pasting this url into your browser.
https://app.kpifire.com/#/treeView
Batch Update: add a Team Member to many projects (for Admin users only)
Projects


List View

Actions
Bulk Update
Select Projects (click individual or select all)
Click Next
Select Role
Add Team member
Click Add Member

Optional:  Notify

Note:  If you select Notify the new team member will receive one email for each project they are added to.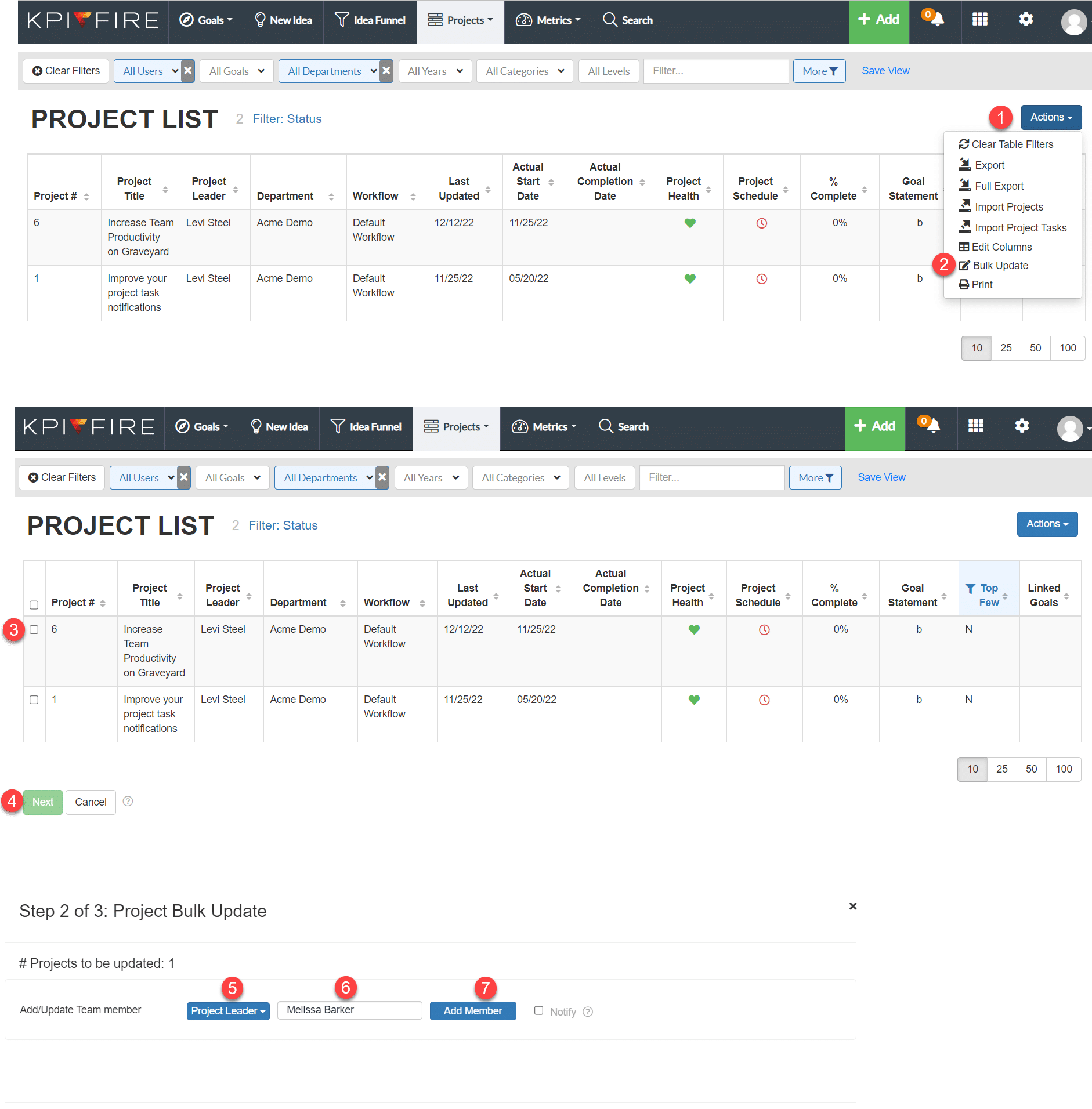 Projects: New "Top Few" feature. Makes it easier to organize your "Top Few" performing projects for quick access or later review
Projects


List View

Add "Top Few" option to your Filter Project View Columns

Click on Actions
Click Edit Columns
Select Top Few

Top Few will now show in your project list and you can filter and sort by this column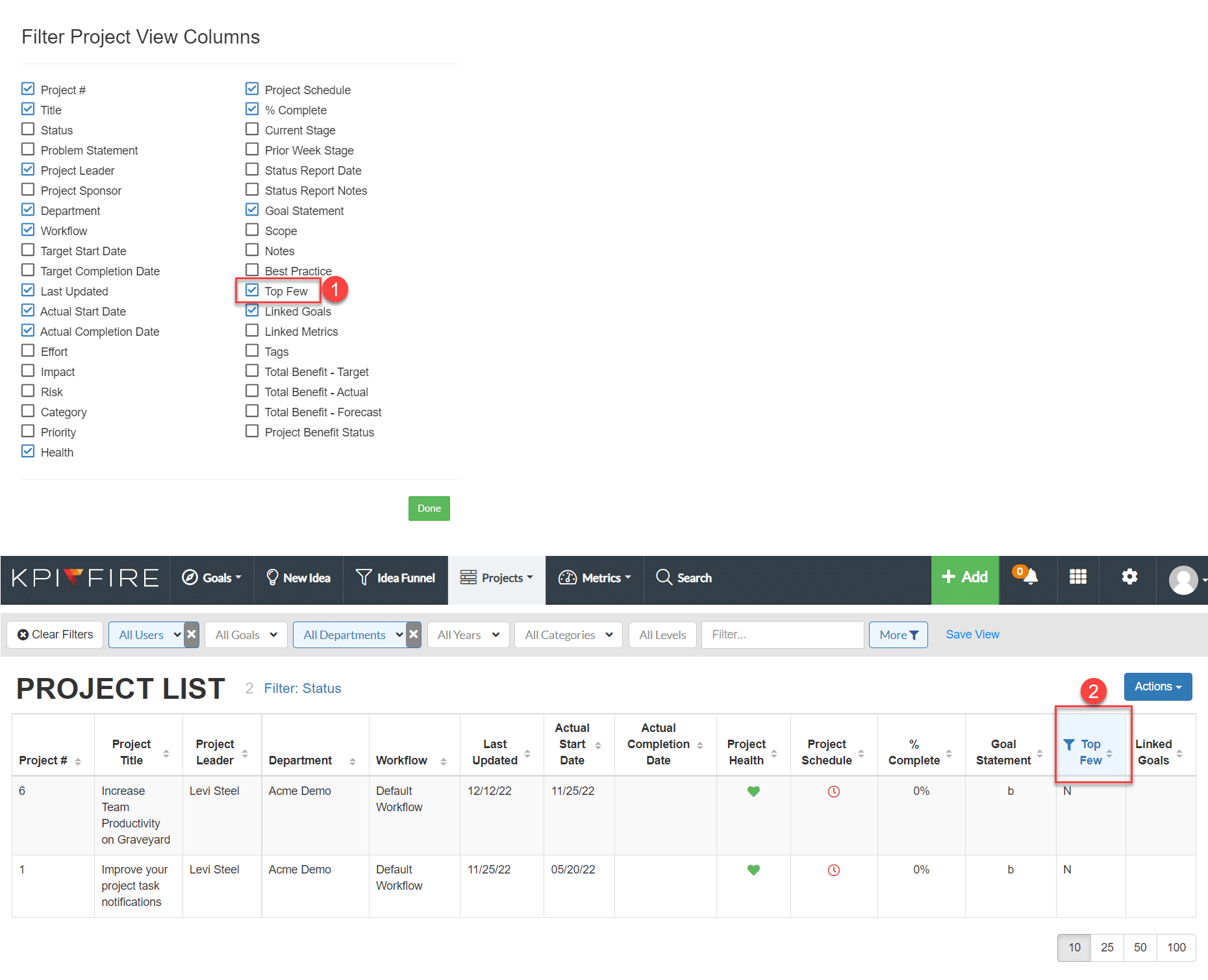 Huddleboard: Add setting to control the date selector interval
Huddleboard Metric Chart


Line chart

New option to show/hide each column including custom columns w/numerical data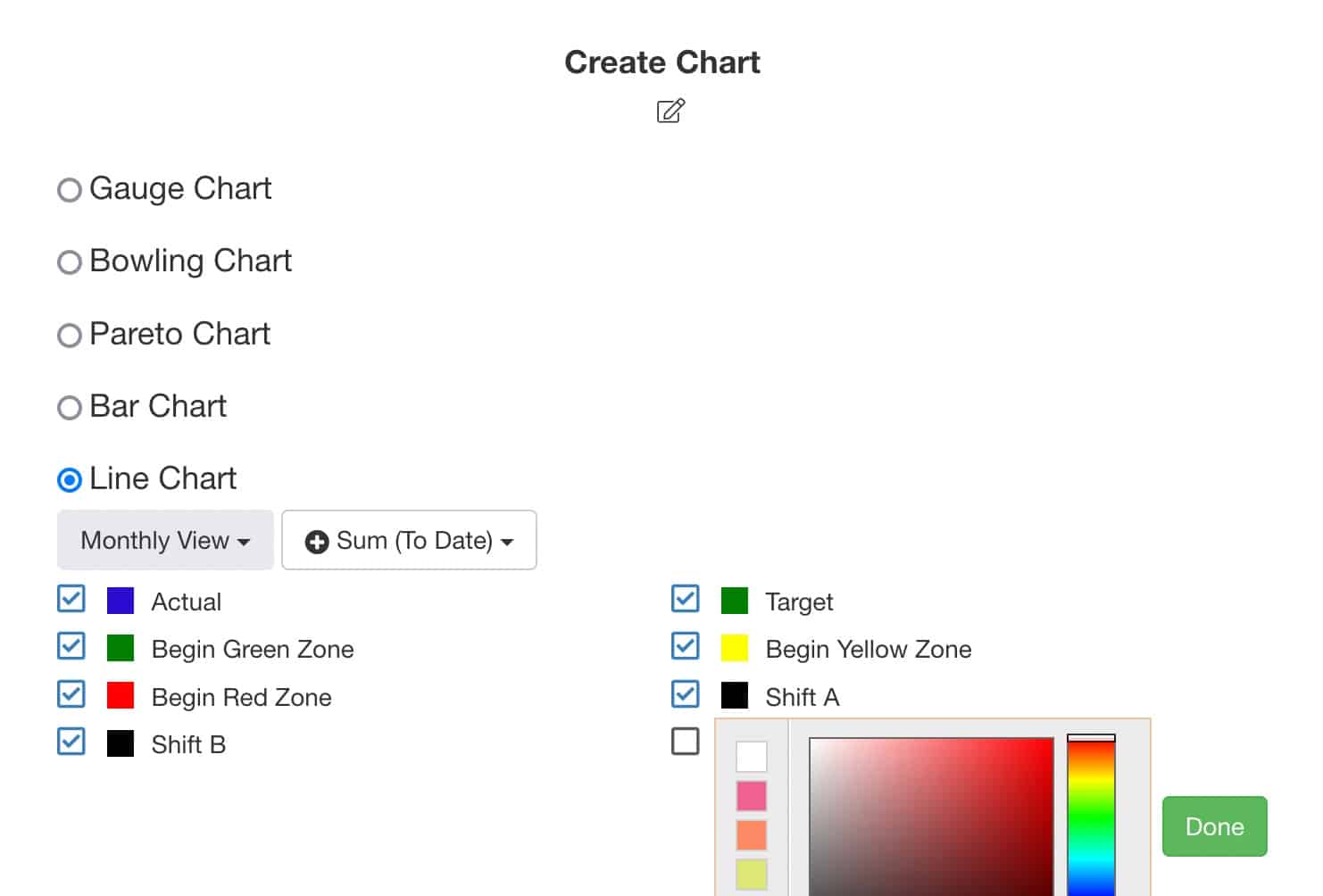 Improved Features
Reports: Project Benefit Exception Report: Improve layout

Edit on page
Show Status Report
Add Status Report

Huddleboard: Balanced Scorecard > Added option edit the show/hide for columns
Global Filters: Added option to filter by "no category".
Turn off legend for line chart tile
Performance improvement on Project Benefits
Added Close button on Log File Modal
Metric Pareto Input: Improved the input of Pareto values. Now easier for metric editors to add values to Pareto list.
Project Log file now filterable

Select any project
Go to Actions
Select Log File
Can now filter Logs

Project List view: Current stage field: show last stage if project is finished.
Added API for Users
New Search Feature: Now find deleted projects and deleted tasks
Idea Funnel: Added "Active" tab for showing ideas which have moved to Active Projects.
Idea Funnel: Added help tip for tabs
Preliminary work for KPI Tree view feature
Huddleboard Metric Chart: Line chart. New option to show/hide each column including custom columns w/ numerical data.
Replaceable values: Some values can be translated with customer input
Updates/Bug Fixes
Fix issue affecting weekly input metrics with April Fiscal year
Fix issue affecting metric count
Fix issue affecting clone project feature
Fix issue on project benefit csv export