Strategy Execution with the X-Type Matrix in KPI Fire X Matrix Software
The xMatrix, or X-Type Matrix Template is a tool that many organizations use to implement a Hoshin Kanri approach to strategic planning. Further, Hoshin Kanri, which means "Policy Deployment" in Japanese, can be useful for communicating the important elements of a strategy. The X Matrix tool is able to communicate this information on a single page. The basic idea is that top-level objectives start on the bottom, or "6:00" side of the matrix, then the dots show the relationship to each sub-goal in a clockwise direction.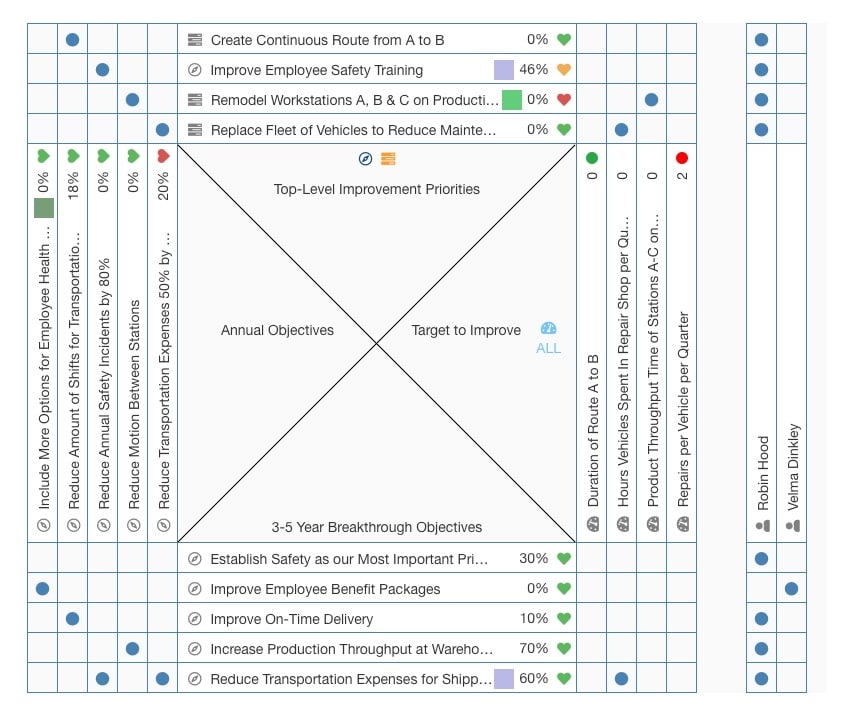 X Matrix Advantages:
One-page view of strategy.
One of most common methods adopted by large organizations for strategy execution.
The format can teach and provide feedback if used with discipline.
When used properly it should indicate the strategic intent, as well as the targets to achieve along the way.
X Matrix Disadvantages:
Can be considered complicated by some.
Can sometimes lead novice users to create excessive layers of goal hierarchy.
Can become "multi-dimensional lists".
How to Use the X Matrix View In KPI Fire:
2 Options:
Option 1: Goals –> X Matrix View
If you've already configured goals with relationships, they should show up in this view. Additionally, if you have not setup any goals, you can use the 'New Goal' button in top right. This view will also follow the global filters that you have set.
This view is built dynamically based on your global filters, and the linked relationships between your Goals, Metrics, and Projects.

Option 2:   New Huddleboard -> New Custom X-Matrix
This version provides more flexibility in how items get on to each of the sides. Use this version when you want to create a specific X-Matrix view for a specific department.
Set Your 3-5 Year Breakthrough Objectives
This is your "south" or "6:00" quadrant, which serves as your long term mission/vision related area that contains items spanning more time than the current year.
Once in KPI Fire, begin by creating a goal and selecting the top-level company as the department.
In the Goal Description box, to clarify things, it is recommended that you enter details about the short phrase that refers to the goal.
Set Your Annual Priorities
This is the "West quadrant, or 9:00" position on the X Matrix Template, which represents key results or goals that you plan to achieve in the next year. These should be configured as sub-goals of your 3-5 year breakthrough objectives.
To begin with, create a sub goal, click on the goal you want to link from, and select from the Actions dropdown: "+ Add/Edit Goal."

Set Your Immediate Top-Level Strategic priorities.
This is the "North quadrant, or 12:00" position on the X Matrix. These are key results or goals that you are working on most immediately. These should be configured as sub-goals of your Annual breakthrough objectives.
Targets to Improve
In similar fashion, the items in the "East quadrant," or the "3:00" position on the X Matrix are considered your Targets to Improve. Additionally, these are your Metrics. Subsequently, any metric linked to one of the goals listed in the other quadrants will be listed here.