Are you a Continuous Improvement leader?
Do you want to engage your team or other staff in generating more Improvement ideas and accomplishing more improvements?
If you work in Continuous Improvement, and you are the one "doing" all the projects, you might think that more project ideas means more work for you.
STOP!!! It doesn't need to be this way.
If you want to build a real culture of continuous improvement you should be facilitating MORE improvement projects, but you shouldn't be the only person doing anything about it.
Your organization has great ideas.  Your organization HAS people who want to make things better.  You probably have a pent up demand just waiting to be unleashed.  Now, you can make it happen.
The KPI Fire mobile apps is your solution.
Here is how it works….
First- Invite your team to download the KPI Fire mobile app and share improvement ideas.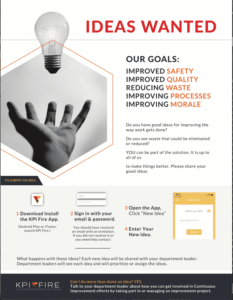 Here is a sample email you can use:
Hi;

Our organization has started using KPI Fire for tracking and organizing our Continuous Improvement Projects, and we want your input.

Do you have an idea for an improvement?

Is there something that you would like to see changed for the better?

Look for your KPI Fire invitation email. Click the link & setup your password.
Download the KPI Fire mobile app. Enter your email & password.
KPI Fire available on iOS:
KPI Fire available on Android:

Click the "New Idea" button and enter your first idea.
Now, if you are lucky and your team actually reads your emails, they will start inputing ideas. You will see the ideas show up in the Idea Funnel in KPI Fire.

Next, you look for the ideas without a Priority value.  These are the new ideas. Now prioritize them.

But, what do you do with all of the ideas?
First, there is a very good chance that many of the ideas will be issues that can be solved by the person that submitted them. You can help empower your team to solve their own problems.
Go through the list of ideas and determine if you can find a Project Leader to own the project, or connect other potential project leaders with the good ideas.
If you have done some basic setup of your KPI Fire account, you should have a handful of templates available to use with these new projects.