How do you win the Superbowl? One huddle at a time.
Join VP of Sales Randy Clark, son of the legendary American football player and head coach Monte Clark, as he talks about the importance of daily huddles. Randy will show, step-by-step, how to build a huddleboard that will make your daily huddle the most important meeting of the day. Thursday, June 15, 2023 | Noon – 12:45 pm (MST) Register now.
Football isn't just a game; football is a multi-billion-dollar enterprise. What do football teams do to succeed that most organizations don't do?
The huddle. Most football teams huddle before every play to ensure alignment.
During a game, about every 40 seconds, a football team meets to plot their next move. They gather to check the game plan. For a few brief seconds, players look each other in the eye and their leader, the quarterback, takes signals from the sideline and provides instructions so they can execute the plan together. This is the huddle.
In a huddle there's no time for conversation, deep reflection, or discussion. It is time to devise a strategy, get to the line, make a read, alter the play, and then execute.
Sounds a lot like business, doesn't it?
A daily huddle should not be confused with "having a meeting." They are both essential, however, each serves a different need.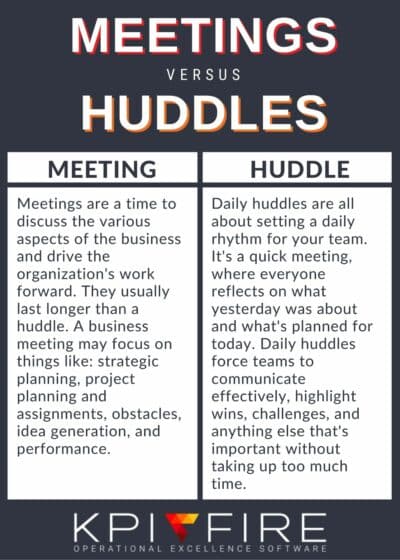 As you can imagine, in football there's a big difference between the objectives of a huddle on the field and the halftime locker room meeting.
More information on huddles: How do you have a successful huddle?
Does a Daily Huddle Need a Huddleboard?
Huddleboards are more than a good idea, they can be an essential part of the daily huddle. Create a huddleboard with key information on the team members' work. Most workers have a host of metrics they could report on, but a key metric is the one number that truly matters to reach your overall strategic objective.
Although both a corporate dashboard and a huddleboard are important, the huddleboard has a different purpose than a corporate dashboard.